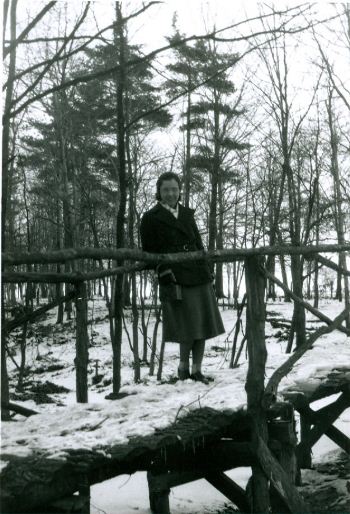 Leone (Neuhaus) Schroer '40
I am Leone's daughter. My mother is pictured on the steps in the top left picture of the brochure you sent out. She is in the front on the left in the dark jacket. Mom was in the first class at Mission House that included women. She had wanted to learn about interior design, but because that was not offered, she worked toward her education degree. She was an outstanding educator, teaching Latin and English at the high school level, 3rd and 5th grade in elementary school, and then substituting in all grade levels and special education classes as well until she was well into her 70's. She met and married my father, Rev. Orville Schroer, while attending Mission House. They married on my father's graduation day from seminary, May 30, 1943. Mom was a wonderful support for my father throughout his ministry, which continued in a variety of capacities until his death just a few months ago in April 2010. Mom passed away in August 2001.
Mom told about having to go to the pond and catch her own frog for biology class when she was a student at Lakeland. I have a notebook where she sketched plants and labelled their parts, as well as a notebook conjugating Latin verbs. She and my father laughed about the times they drove their car onto the lake in the winter time and skated on the river into town. They maintained friendships with classmates throughout their lives, and even though they followed our family to Arizona, they returned to Lakeland whenever they could for class reunions. Our family celebrated my parents' 40th wedding anniversary at Lakeland in 1983. It was wonderful to be with them on the campus and see and hear the love they had for this wonderful school.
Submitted Photos:
(click to enlarge)